Never in my wildest dreams did I think Today's Creative Blog would be what it is. TCB was just something I started on a whim.........I loved searching for other blogs that shared my obsessions for decorating, crafting and creating. I thought how wonderful it would be if someone had a blog that did the foot work for you.....a hub of craftiness. In that small time frame of 5 minutes, I started Today's Creative Blog. You know how I just jump in before testing the waters? Thank God this water has been lovely. My
first post
was my dear online friend Nancy Jones and I've never looked back. Of course in the beginning I thought I could do a feature daily, but feeding my family, teaching classes......the life that I lead got in the way at times. Darn it!
I have met so many wonderful online friends. The warm nature of people who visit my blog keeps me going. I love keeping people and myself inspired with the talent of others. I love helping people realize they ARE inspiring to others. And selfishly, I keep myself inspired by everyone's talent.
With the growth of TCB, I have been fortunate to have people who think it's worth it that I sit here and plunk out a feature every couple days. It sure makes it easier to justify the time I spend on the computer and avoid my home list of to do's.
Thank you to all my advertisers. Thank you to all my readers. I feel very fortunate that I can make a little bit of a living doing what I absolutely enjoy. And at the same time it allows me to promote the creativity in others.
I can guarantee that all my sponsors are creative in someway.........so please pay them a visit. Several have great ideas for Christmas gifts too.



Created By Mom
Motherhood is truly divine, but it can be difficult to remember that while covered in spit up, drowning in dirty dishes & stressing over making ends meet. Often moms start their own businesses as a way to have more time at home with their families. The createdbymom.com chic boutique is a classy place for moms to sell the products they have created, while also enjoying the famous Mom-Vendor Discount (20% off any other item in the boutique!).
You can read what I wrote about them on TCB here.
Amazing artist who paints your portrait! I always wonder how people got this talented.
Totally Her
What a fantastic hub for women. Great place to hang out.
Another one of my fabulous
features.
OH.MY.GOSH! This is one product that was not yet available when my son was small. The cutest shoes for littles at such a bargain price. I buy these kind of shoes for every person I know who is having a baby.
Peekaboo Paperie
(psst.......there's a giveaway coming soon)
These guys have the CUTEST cards! Weather you need Christmas cards, baby announcements, etc.... They have so many options. Check them out.
The Cup Cake Club
The Cupcake book series for any tween girl. This woman is amazing. The support she offers for young women is wholesome and encouraging.

Fine Art of Family
It's home to a collection of lockets, jewelry and image cases destined to be passed down as part of your family history


Crash This Party
Crashthisparty.com is the site for you to share your decoration, invitation or tablescape, menus and entertainment ideas. You can even post pictures of your events for free. Share your photos and ideas with family and friends from all over the world, anytime.



My Pacifier
My son would NEVER take a pacifier........oh how I tried. Perhaps if his name was on it, he would have been more interested?

Cherish Bound
Anyone can become a published author. Cherish Bound can help you publish your own book whether a five year old child, eighty-five year old grandmother or somewhere in between. One copy or 100-Affordably!

Mommy Making Coin
Full time mom, making money from home.


Alyson Garvey Designs
Amazing hand crafted jewelry

Paper Cakes
The sweetest paper embellishments .


Sharon Foster Art
Original paintings and more
Kokeshi Love
Unique gifts from Japan
We all love blog designs.
Initial Designs
I love this type of art! Your family name or initial.......or for the babies room.
Intermissions
Amazing button tags, paper and fabric yo yo's......cute stuff!
Kiki & Lele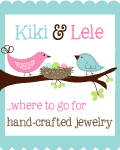 I love this stuff! It's so perfect for gifts!